Way back in childhood, we were told this story. Guru Drona was teaching Pandava-Kaurava children archery. One day he asked his students to aim at the bird's eye. Before they did he questioned what did they see? Each student failed the test as they saw the trees…branches…bird's face…only Arjun was allowed to Aim when he said "
I see only the Bird's eye!
"
Formula for success…Focus clearly on what you want. Go after it with single- minded- laser- point- pin- headed penetrating-precision…
Hail then our modern gen Arjun…He has been gently kinda growing on me!!! He is the sharpest aspirant in Bollywood and steadily getting towards his goal…the ultimate bird's eye…the Numero Uno position…
He is steadfast…he is everywhere…he is witty…articulate…and he knows society is changing and so he needs to market himself exactly to suit today's sensibility…
The audience no longer wants to see a Hero who is willing to waste himself behind a Paro…in a bottle of alcohol…Today the male is super practical...there always is another Paro with whom he need not perish instead go paragliding some place cool…
Today's hero is no longer the revenge driven unemployed system hurt embittered glorified poor…today the Male concerns are far different…he has had a cool educational background…an understanding wise doting or maybe a little orthodox parent but does not get in the way in any which way…Paying bills is not his concern now….paying court to his lady love in the most sophisticated way is…
Today the audience no longer loves to see an upright righteous police officer fighting a system for justice…In today's male they simply brush shoulders with law if they have broken a traffic signal or have no PUC…beyond that their world is pretty much laid out in neat patterns…what is muddled is the relationship equation…guess somebody told that to our Arjun today…
Cinema is fast moving to real life circumstances with the day to day challenges making interesting topic and fodder for cinema.
Today the lady is not unrealistic in wishing her Man to be a Greek chiselled God …they look cool in Sculptures …and stories of yonder age. Today she is more interested in knowing how he will deal with her when she has an off day…how will he wipe tears…he does not have to slay villains or uncouth dragons…he has to allay her fears and insecurities…who will understand her need for independence and cover her need for interdependence.
Hail our Modern Arjun then…look at him in Ki and Ka ka trailer…and he puts forth a perfect recipe of a Friend and a companion that a Lady needs today…
No wonder the Trailer has shaken few long held stereo types…of what a man does and what a female does…essentially we are individuals who have our challenges that goes beyond the physical attributes and organs…and requires an open thought and flexible approach to living today…so what do we like about Arjun…
He is willing to self- deprecate. He has no upright or uptight image to hold on to like stars of the past…he is what his film demands and he will gladly crack a joke or two on himself. "Mujhe bawarchi bana diya." quips our Uber cool male in a press conference. He makes no bones on screen or off screen about this avatar. He can laugh and be laughed at.
He himself is cracking and admitting to his weaknesses laced in wry sense of humour…like he confesses in Khatron ke Khiladi's first episode…I am also nervous…clear and transparent...communicating with a joke or two. There is always a drawl in his voice and mischief lurking in his eyes…even if there is anger or annoyance it is cleverly masked with tons of icing of intelligent snipes and barbs...it is visible on his sharp Twitter remarks too!
HIS DEDICATED ADAPTIVE MODE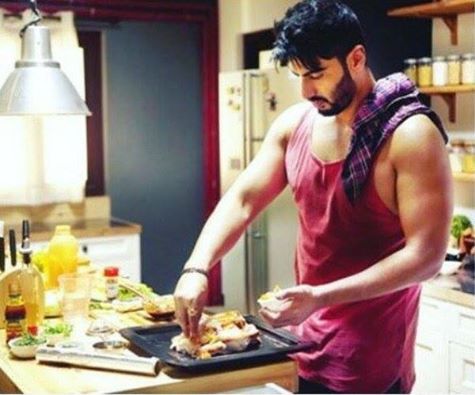 Whatever his role demands…he will get in the skin of it. We used to generally hear from Naseer Sir or OMPURI actually going and staying in an area where they could feel the character…So does Arjun learn to cut vegetables with a mastery of a connoisseur and learn the mannerisms to get into the authenticity of it all? Make no mistake Sir…Today's Arjuna is clued into his work and will go nonchalantly after it.
The trailer shows Aficionado types playing with pots and pans and broomsticks…as if he does it every day…we are so focused on the bird's eye…now are we not???
HE HAS A MIND AND INTELLIGENT WORLD VIEW
He can essay the role of a house husband with efficiency because he is again a well-bred and well-read person. He has understood this character and so he brings forth the burning questions with ease…I do not wish to do a sex change…he declares…simply because I like cooking and cleaning. "I LIKE Women and whiskey…just am not ambitious…corporate wise…!!!
It was and is a challenging concept in a country like India which changes in emotional matters at a snail's pace. He has understood his character enough to answer at a press conference a profound query "Do you think Women empowerment exists only on Internet hashtags and articles and cinema?" He promptly and sombrely offers…change is happening…the number of female journalist is increasing…women are choosing to live a life of their choice…slowly and surely…he exhorts the society to shed the myopic view and look beyond...very very sensitive and very very intelligent…He has understood his role alright and the ins and outs of it all…
So much ado about the amount of kisses shared…but It is so comfortable when he does it…you do not want to look away…or feel anything untoward…he smooches with an understanding of I know who I am and who you are…its most of the time camaraderie being expressed…its natural…and he carries it so neatly…
I so wish these kinda films came when I was young…it would redefine kiss as a token of affection and not always a prelude to passion. It's Arjun who makes it sound so non-threatening and cute!!! Forgive me but I love the casual smooch...cooch and welcome or bye bye…the Kiss actually smiles…you do not believe me…?
Okkk see the trailer again…try it in your practical life…you may find out you have either over done it…or underdone it…Arjun does it just right!!! So sweetly all embracing natural thing to do…God I cannot ask him to marry me…so I will simply ask my Hubby dear to well….observe…
It is his oxygen. He cannot survive without it. He flirts around everywhere. He may not leave the bhaajiwali at the turn of the street he may meet. He flirts with Paro…Sana..on the sets of Khatron Ke Khiladi and all know he is not to be taken seriously.
But that kind of light sense of humour and everything is fun and light makes all kind of work so interesting…Fun it would be to work with someone who will keep you flattered and make you feel good. That is then the reason of sparkle on KAREENA'S face. She has the glow of "Jab We Met" on her face which was missing for a long while in many films…IS Arjun's easy go flirt always attitude?? Of course SAIF Ali khan cannot be left out…he has made her a happy woman…and we will be a happy audience.
HE IS SO...UMMM…UNKEMPT…
Now you will ask me…why should you like unkempt??? The image of a suit and boot well combed man is so ewww...so worn out…and when men are at home…well that is one thing they would like to forget…combing hair…shaving….dressing to perfection.
Our Arjun represents this casual man…and still manages to look decently adorable because you are busy observing the criss cross wrinkles of humour rippling all around…so whether Khatron Ke Khiladi or Ki and Ka …he has the stubble and hair care ignored look…and lovable…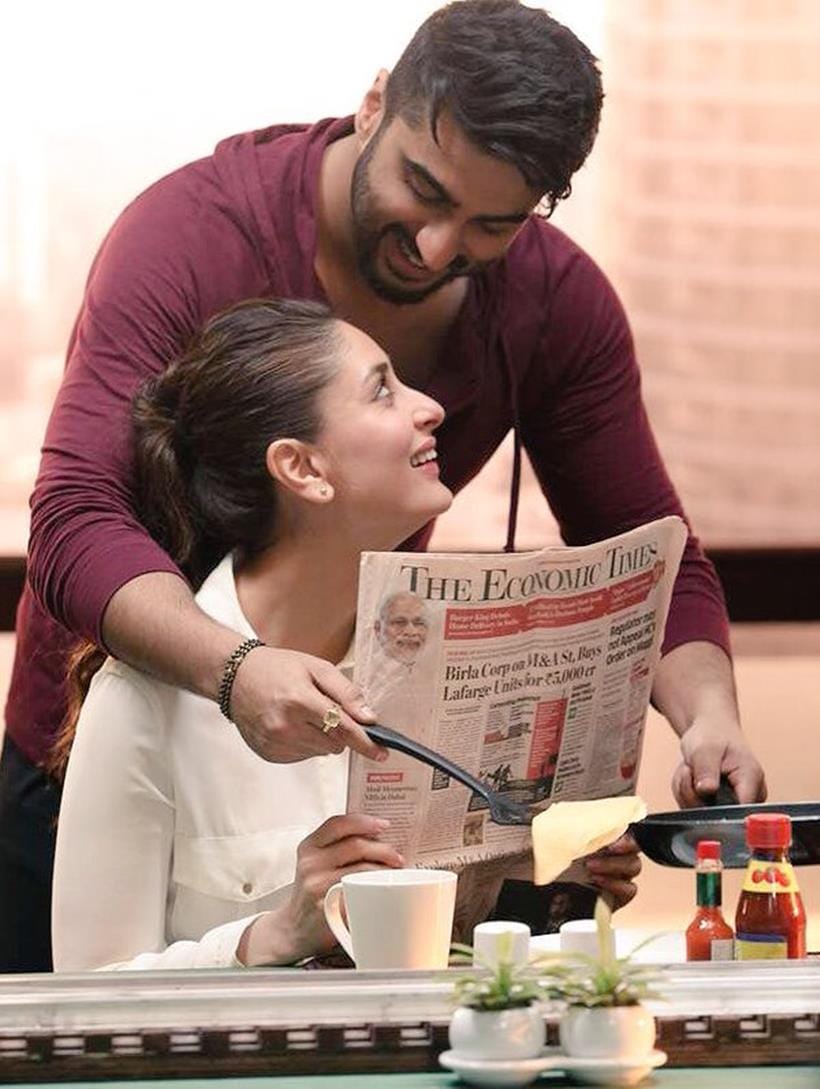 For all the new concepts that he is doling out, he is pretty cool about his persona. Besides the gentle appeal of be equal, he does not sermonise. He leaves it to the audience with a simple "It is a choice two individuals have made…why should anyone raise issues to what each one does in their the relationship equation?" No outward rebellion but a simple acceptance of what he or she is…that is how a society is supposed to be…let all be.
The multi changing fast paced world is no longer about reforming the world with heavy messages or vitriolic remarks on the system or stagnant ways…only A CHOICE…MADE…
A MISANDRIST would find it so utterly hard to hate him…no one can accuse him of hinting at a bend to MISOGYNY either!!!
FIRST HE WEARS A MANGALSUTRA
NOW HIGH HEELSSSSS…OH MY!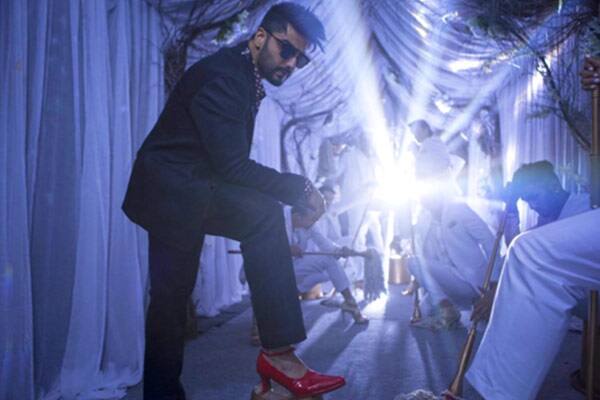 Goddddd…OMGGGGG…BREAK THAT STEREOTYPE TOO…and I am sure he will break few hearts and the splinters will fly Far…Each change reflects in the Cinema and who better than Arjun…A new individual surfaces …if you do not like him in heels ...well you grew up thinking a certain gender adorns it…he does not think so…Different is the new "in" and fitting in is the new " out" .
You accept it…scoff at it…reject it…troll it…love it…he has done it…without a hint of earlier remarks at a certain gender preferring the other adornments hitherto a domain of another as…well…less than adorable…less than reputed…less worthy of attention. He stands fully as an individual…whole and healthy and happy…whether he has a broom…a knife…a mangalsutra...a red heel…asking for money to run the house…touching the feet of mom in law…to giving a whack to goons if needed…Dharmendra ishtyyyyllleeee….
So are these reasons enough to peg Arjuna competent to be allowed to play the Game of Archery??? Fans Applause being his Bird's eye…I think Yessssssss!!
By Sonnal Pardiwala
The writer claims no rights over the images used in this post.